Models of Diversity are a charity who promote equality and diversity for the public benefit by promoting greater diversity in the fashion, beauty and media industries, where people of minority ethnic origin, older people, larger and smaller people, people with a disability, and non-binary gender people are under-represented.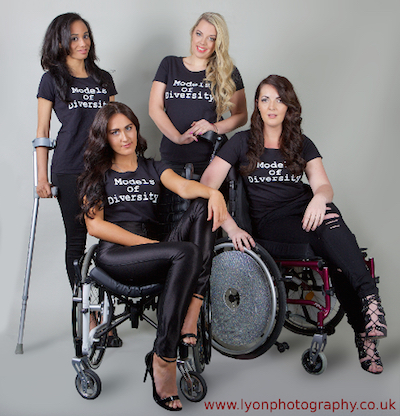 • They run Introduction to Modelling Workshops for people with disabilities.
• The Front Row Debate "Body Confidence"! This is a show with audience participation. A panel discussion on body confidence.
• Catwalk for Change is a fashion show with models of diversity, including amputees, dwarfs, older models and models of colour. Men and women of all shapes and sizes will showcase couture creations from the most coveted and diverse designers from all over the globe. This is a high profile event which the world's media is keeping its eye on. Expect surprise celebrity guests, both on-trend as well as household names.
• Fashion Shows featuring models of different ages with disabilities and models of colour.
To find out how you can get involved contact Angel Sinclair
Telephone:(020) 3715 8340 / +44 20 3715 8340
Email: info@modelsofdiversity.org
Post: 22 Commonside West, Mitcham, Surrey CR4 4HA
FAO P Jeal
modelsofdiversity.org